CUBG and BGCI join hands to conserve plant diversity worldwide
  The Chinese Union of Botanical Gardens (CUBG) and Botanic Gardens Conservation International (BGCI are to collaborate for the purposes of capacity building for botanic gardens worldwide, according to a memorandum of understanding (MoU) signed on July 25.
  The MoU was signed during the sidelines of the XIX International Botanical Congress – Botanical Garden Directors' Forum, whose theme is "New missions for botanical gardens in Anthropocene". As representatives of the two sides, Prof. CHEN Jin, chairman of CUBG and director of Xishuangbanna Tropical Botanical Garden (XTBG), and Prof. Paul Smith, secretary general of BGCI signed the MoU.
  In support of the objectives of the Global Strategy for Plant Conservation, CUBG and BGCI will "work together to assess the conservation status of known plant species to guide conservation action", said CHEN Jin.
  "Plant diversity is declining globally and its effective conservation is urgently needed. BGCI and CUBG will link botanic gardens worldwide, particularly in countries listed on the Belt and Road Initiative, to protect threatened plant species via in situ and ex situ collections", said Paul Smith, secretary general of BGCI.
  CUBG and BGCI will develop and implement joint training programs on conservation horticulture and landscaping, plant taxonomy, environmental education, botanical garden management, etc. They will try to incorporate the importance of plant diversity and the need for its conservation into communication, education and public awareness programs.
  The two sides will also share data and protocols to support the implementation and monitoring of the Global Strategy for Plant Conservation and help ensure improved conservation outcomes, e.g. botanic gardens accessions data, wild plant species data, germination protocols, etc.
  "Chinese botanical gardens have taken actions in response to conservation challenges. CUBG is trying to enhance future development of and promote a more desirable conservation culture in botanic gardens or arboreta. Together with BGCI, we will link the botanic gardens of the world and contribute more to plant diversity conservation worldwide", added CHEN Jin.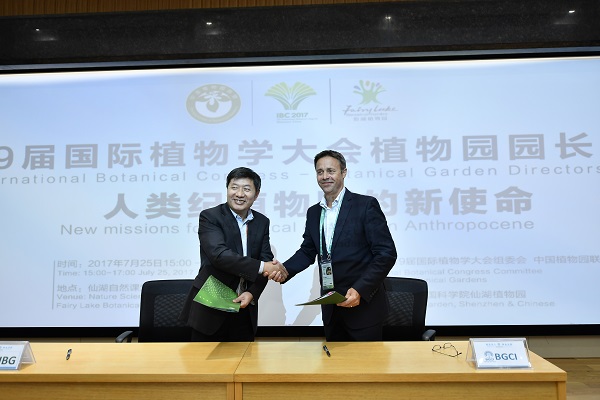 CUBG and BGCI join hands to conserve plant diversity worldwide