Board of Directors Meeting of CUBG held in Kunming
The first Board of Directors Meeting of Chinese Union of Botanical Gardens (CUBG) was held in Kunming on September 3, since its inauguration on June 6.In addition to chairman and vice chairmen of the CUBG, the board meeting was attended by CAS vice president SHI Erwei, Academician XU Zhihong, and officials from Ministry of Housing and Urban-Rural Development, State Forestry Administration, and Chinese Academy of Sciences (CAS).
Mr. DUAN Ziyuan, vice chairman of CUBG, made a report on the current situation and future work plan. Other reports by chairman and vice chairmen were as follows:
Prof. Chen Jin, chairman of CUBG, Full-cover conservation plan of native plant species in China.
Prof. Huang Hongwen, vice chairman of CUBG, Evaluation and Accreditation System.
Prof. Li Shaohua, vice chairman of CUBG, Team Building
Prof. Zhao Shiwei, vice chairman of CUBG, Science Popularization
Prof. Hu Huabin, decretary general of CUBG, Construction of data information platform.
Academician Xu Zhihong put forward constructive suggestion for development of CUBG.
CAS vice president SHI Erwei said that CUBG is not a substitute for daily work of a botanic garden. It is not implementing administrative functions either. He encouraged CUBG to carry out work in an innovative way, with an overall thinking and long-term vision, and to conduct more exemplary and demonstrative work.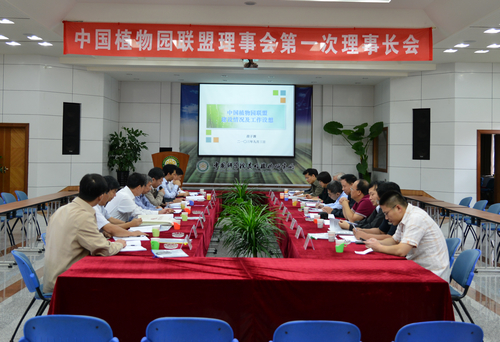 Discussion meeting