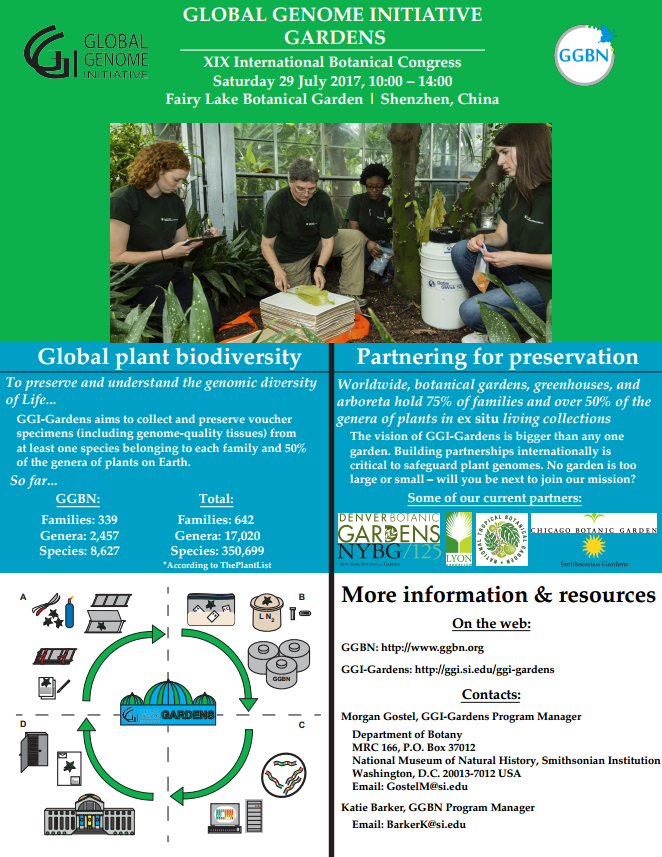 Dear colleague,
As a representative of an arboretum, botanical garden, or other living collection specializing in plants, we are writing to inquire if you, or another representative from your institution, would have an interest in participating in a satellite meeting during the XIX International Botanical Congress, entitled Garden Genomics Tissue Banking Workshop, hosted by the Global Genome Initiative for Gardens on Saturday 29 July 2017 from 10:00–14:00 at Fairy Lake Botanical Garden in Shenzhen, China.
The Global Genome Initiative for Gardens (GGI-Gardens) represents an international partnership of institutions that seek to improve the visibility and the research value of living collections for genomic research. As a part of the Global Genome Initiative, GGI-Gardens seeks to Preserve and Understand Earth's Genomic Biodiversity on the plant Tree of Life. Together with recognized herbaria, biorespositories, and botanic gardens, we are organizing an international effort to sample and preserve tissue vouchers from all species of plants on Earth.
Primary goals of GGI-Gardens include:
• Partnering with international institutions with diverse and unique living collections of plants to sample and preserve at least 50% of the known genera of plants on Earth;
• Educate and train staff at arboreta and botanic gardens by providing best practices, pipelines, webinars, and workshops for sampling genomic tissue vouchers;
• Develop data quality standards for plant genomic tissue sampling;
• Facilitate tissue sampling and preservation at arboreta and botanic gardens; and
• Develop resources to sequence and make discoverable barcode sequences for all families and genera of plants.
The workshop will be focused on developing strategies for preparing genomic tissue sample vouchers for long term preservation and research from resources stored in gardens and other living collections. A list of topics that will be covered during the workshop include:
• Use cases from GGI-Gardens partners: Why partner with GGI-Gardens and how is the GGI-Gardens sampling strategy implemented at partner institutions?
• What are the benefits to your institution and the global botanic garden community?
• Information about how we strategically target living collections to ensure effective, distributed sampling across Earth's plant biodiversity.
• Information about how we can help facilitate partnerships and pipelines between your institution and recognized herbaria and biorepositories.
If you are planning to attend this workshop or are interested in attending, please let us know by 15 June 2017. Please find attached 1) a promotional flyer for the GGI-Gardens workshop that summarizes GGI-Gardens goals; 2) a manuscript outlining the GGI-Gardens genome quality tissue sampling collection protocol; 3) the GGI-Gardens benefits portfolio; and 4) an RSVP document to attend the workshop.
If you have any questions or would like clarification on the attached documents or this invitation, please contact Morgan Gostel (gostelm@si.edu).
We hope to see you in Shenzhen,
Morgan Gostel
GGI-Gardens Program Manager
National Museum of Natural History
Smithsonian Institution
Vicki Funk
GGI-Gardens Operations Director
National Museum of Natural History
Smithsonian Institution
Katie Barker
GGI Program Manager
National Museum of Natural History
Smithsonian Institution